Where to start? I've been thinking about this for a while now and really came up with nothing, so I'm just going to write down what comes to mind and see how it works out!!
So from the start, here we go. I had been working in Afghanistan for almost 10 months when a very special person came into my life totally unexpected: Katja was welcomed into the team and easily fitted in, although we ware part of the same team like everyone else we had totally different backgrounds. Over the first weeks we spent quite a bit of time together and it became apparent that we have a lot in common - ideas, thoughts, passions and for sure yoga and that's where it all started. Morning yoga sessions together became the norm and afternoon yoga for me every couple of days (Katja every afternoon).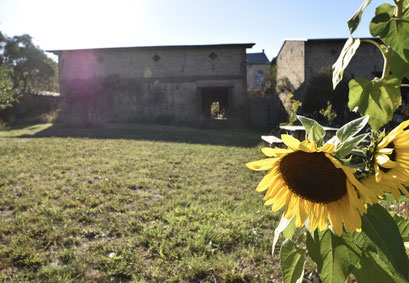 Anyway enough of all that, we got together and went home on our leave from Afghanistan. The first days we were apart due to Katja studying for her masters exam in sustainability (note by Katja: Sustainable Development) and myself having to sort out my personal affairs. We met up some days later and went on a yoga retreat for 5 days in Brandenburg, Germany. It was quite clear from the outset that we would have an amazing time and we did, from the setting/location, people, food, instructor and yoga it was a fantastic experience! It really enhanced our understanding of different yoga poses and on how to make poses more effective and beneficial, to the deepening of breathing techniques and development of our meditation practices. We left the retreat energised and full of life. What an incredible experience!
You can find Jenny, our yoga teacher, on instagram: Yoflaminga
Back to reality!! Not forgetting we are the masters and creators of our own reality, right ... ? Anyways days later we were on a flight back to Afghanistan and back to work, let's rewind a little: When Katja and me first met, I said to her one day in the office that we should all aim to live a life that we don't need to take a vacation from, she immediately stopped what she was doing and wrote it down and said that's my plan. Right back to WORK, so once in Afghanistan it was business as usual apart from our planning to travel every opportunity we would get, not only to see and experience new parts of our beautiful earth and the amazing diversity of cultures, religions and environments and to try and make a difference which ever way we can (even the smallest act of kindness can make a beautiful impact). We had so many amazing ideas, but our commitment to work somehow always got in the way. But then something happened that changed everything, it set us free from our binds to some senseless work in a country that is much better off without the organisation we worked for (note by Katja: They're corrupt as f**k) and where we both felt disconnected from what we were doing - and wanted to do. That's what led us to our current path to be full time yoga/spirituality teachers, eco warriors and fighters for this incredible planet we call home and for all of humanity that shares it with us. So this is the beginning of our journey.
---